MARCH 15, 2023
---
MARCH 15, 2023
WE HAVE COLONIZED POTENTIALITY
The artist Jordan Deal reflects on the sanctuary and peril of public gathering.
Jordan Deal
Jordan Deal's dispatch is a montage of film and poetry attending to what it means to put our bodies on the streets and to convene in private. While the poem reflects on histories and presents of White-dominated society and the potentials for mutual liberation, the film assembles found and personal videos of celebratory and resistance gatherings that were responses to the 2020 US elections, asking pointed questions about who gathers, who watches, who is allowed to celebrate, whose histories are told, and whose are censored.

Jordan Deal, Seas, which are then lavished and graced by the efforts of delusion, video, 2023
Türkçe versiyonu için lütfen aşağı kaydırın.


And then the Phantom spoke back (from the currents of PIT!) *
it's in our name.
the transversal sanctuary.
our temple to
a million worlds
it's in our name.
our memories that
soars, boundless
of the scarification
of the murder of
our founders
it's in our name
we have colonized potentiality
and have been erased with censorship.
our names. we became sacrificial limbs to their gods when they took that from us. The erasure of our timeless knowledge. the enslavement of our timelessness vocality, our futures.

The imperialist gods stripped us of the timelines we were in. And tries to actualize our erasure, but there's power in our unlocked memory.

Our bodies hold the key to the truth to humanity.
There are many wars that aim to off balance our grasp on reality. That transcends through our dimensional landscapes as God took form before we even knew HIS name, even though The Great Mother of Life warned us as She still does, dismantling the very structures that kept Americanism alive amongst these seas. Only murder can be of consequence. And as we experience THAT death, it will happen on all levels. a disruption of our sense of self. our sense of potentiality. She's teaching us to dream more than the limitations of Whiteness, and the ego-death it teaches us. The lessons on greed and purity. Nothing's more pure, cause SHE can only be understood through the luminous turmoils of change. And Love has many forms. Purity can only be understood through the singular, a destination to an eternal Hell. Singularity ends there. And potentiality is the chance to dream anew and to grow the wings we imagine.
our name. We live our lives as if our name is real. As if it guides us to a purpose that'll change the course of your high-tail seas. That makes me gag! Stripped down body and bone in order to lose ourselves, when all you need to do is ask.
However, It's in our name. The world is in our name. Life, death, and humanity is in our name. And we can choose that fate for ourselves. Building a bridge to the Otherworlds where they await for our return. Who were our gods before the myths of white cloaks and palehounds? Black brown earthly cosmos. Dialectical beings pound down the words of ethos as dancing is breath and love is material.
I'll jog that memory of yours back through the hells of disposition and time, to a place where the garden isn't just crisp but ugly, isnt just washed down with the cloaks of eternal fuckery, but instead with all the fucks we carry.
Its time to venture to the bellows of the deep sea, the igloo of void and blackness. No more can you run with fear from our lovely seers! Cause we'll prepare you yet, for your rebirth will be revolutionary!
*Incorrect grammar is intentional for playfulness and breaking upheld forms, more kin to lyrics.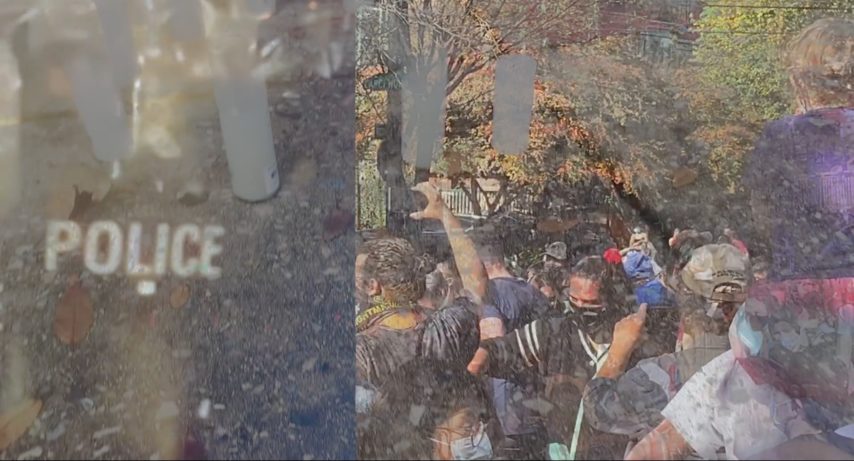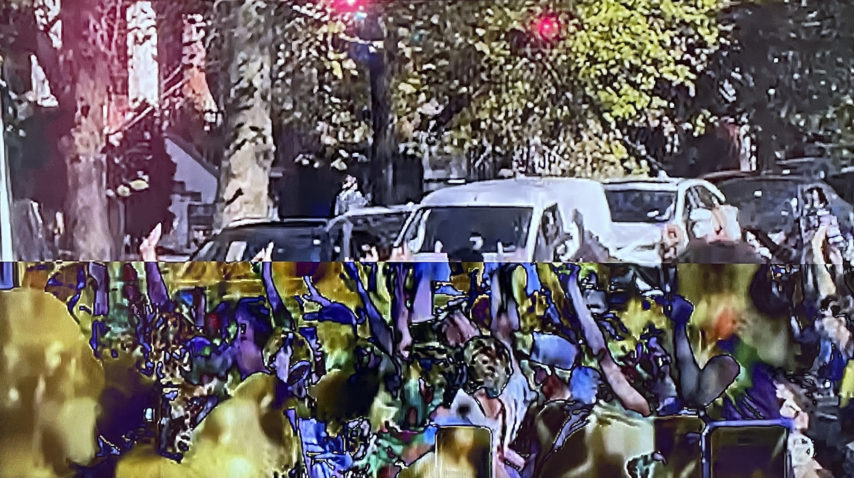 Potansiyeli Sömürgeleştirdik
Sanatçı Jordan Deal, kamusal alanda toplanabilmenin kutsallığı ve tehlikesi üzerine düşüncelerini paylaşıyor.
Jordan Deal'ın gönderisi, bedenlerimizi sokaklara çıkarmanın ve hususi olarak toplanmanın ne anlama geldiğine değinen bir film ve şiir montajı. Şiir, beyazların egemen olduğu toplumun tarihçeleri ve sunumları ile karşılıklı kurtuluş potansiyellerini yansıtırken, film, 2020 ABD seçimlerine tepki olarak yapılan kutlama ve direniş buluşmalarının buluntularını ve kişisel videolarını bir araya getiriyor ve kimin toplandığı, kimin izlediği, kimin kutlama yapmasına izin verildiği, kimin tarihlerinin anlatıldığı ve kiminkilerinin sansürlendiği hakkında keskin sorular soruyor.
Ve sonra Hayalet karşılık verdi (KUYU'nun akıntılarından!)*
bu bizim adımızda var.
bu kesitli kutsal sığınak
tapınağımız olan,
milyonlarca dünya
bu bizim adımızda var.
gün yüzüne çıkan anılarımız,
kazınmasından,
köklerimizin katlinden azade
bu bizim adımızda var
potansiyelimiz sömürgeleştirildi
ve sansürlenerek silinip gittik
adlarımız. adlarımızı bizden aldıkları vakit onların tanrılarına kurban edilen et ve kemik haline geldik. Zamansız bilgimizin terkini. Zamansız seslerimizin, geleceklerimizin köleleştirilmesi.
Emperyalist tanrılar bizi içinde bulunduğumuz zaman çizgilerinden sıyırıp attılar. Sillinip gitmemiz için çabalıyorlar, oysa bizim zincirlerinden kurtulmuş belleğimizin de bir kudreti var. Bedenlerimiz ise insanlık gerçeğinin anahtarını elinde tutuyor.
Gerçekliği kavrayışımızdaki dengeleri bozmayı amaçlayan birçok savaş var. Her ne kadar Yüce Tabiat Ana geçmişte, tıpkı bugün olduğu gibi, bu denizlerde Amerikancılığı canlı tutan yapıları bir bir parçalayarak bizi uyarmış olsa da, Tanrı biz daha O'nun adını bile bilmeden evvel vuku bulduğu için bizim boyutsal görümüzü aşan birçok savaş var. Sonucu sadece kıyım olabilir. Ve biz O ölümü deneyimlediğimizde, bu her seviyede gerçekleşecek. benlik algımızın bozulması, potansiyeli kavrayışımızın. Yüce Tabiat Ana bize Beyazlığın sınırlamalarından ve bunun bize öğrettiği ego-ölümünden daha fazlasını hayal etmeyi öğretiyor. Açgözlülük ve saflık üzerine dersler. Hiçbir şey bundan daha saf değildir, çünkü Yüce Tabiat Ana sadece aydınlığın habercisi değişim sancıları sayesinde anlaşılabilir. Ve Sevginin birçok şekli vardır. Saflık ancak tekil, ebedi bir Cehennem'e varış noktası üzerinden anlaşılabilir. Tekillik orada sona erer. Ve potansiyel yeniden hayal etme ve hayal ettiğimiz kanatları büyütme şansıdır.
Adımız. Sanki adımız gerçekmiş gibi yaşıyoruz hayatlarımızı. Sanki bizi çoşkun denizlerinizin rotasını değiştirecek bir amaca yönlendiriyormuş gibi. Buna ancak gülerim ben! Tek yapmamız gereken talep etmekken, kendi benliğimizden geçmek için bedene ve kemiğe indirgendik.
Yine de, bu bizim adımızda var. Bu dünya bizim adımızda var. Yaşam, ölüm ve insanlık bizim adımızda var. Ve bizler kendimiz için bu kaderi belirleyebiliriz. Geri dönmemizi bekledikleri Öteki Dünyalar'a bir köprü inşa ederek. Beyaz pelerinliler ve sarı tazılar mitlerinden önceki tanrılarımız kimlerdi? Koyu kahverengi dünyevi kozmos. Diyalektik varlıklar, ethos'un sözlerini bastırıyor, çünkü dans etmek nefestir ve sevgi zaruridir.
Senin bu hafızanı düzenin ve zamanın cehenneminden alıp, bahçesinin sadece körpe değil, aynı zamanda çirkin olduğu, ve sadece ebedi saçmalıkların pelerinleriyle değil, bunun yerine üzerimizde taşıdığımız tüm saçmalıklarla yıkanıp temizlendiği bir yere geri götüreceğim.
Açık denizlerin kucağına, boşluğun ve karanlığın iglosuna çıkmanın zamanı geldi. Artık bizim o sevgi dolu kahinlerimizden korkup kaçamazsınız! Çünkü her koşulda sizi hazırlayacağız, çünkü yeniden doğuşunuz devrim niteliğinde olacak!
*Bozuk dilbilgisi, oyuncu bir ton yakalamak ve alışılagelmiş biçimleri bozmak, şarkı sözlerine yakın bir hava vermek için kasıtlı olarak kullanılmıştır.
https://argonotlar.com/potansi...