ONCE UPON A TIME INCONCEIVABLE
Amie Siegel, Quarry, 2015. HD video, color:sound (still). © Amie Siegel. Courtesy the artist and Thomas Dane Gallery. Within Protocinema's Once Upon A Time Inconceivable, 2021

Paul Pfeiffer, Orpheus Descending (still), 2001. Video installation, 75 VHS Tapes Duration: 75 days. Originally commissioned by the Public Art Fund and installed at the World Trade Center and the World Financial Center, New York, April 15 - June 28, 2001. Installation shot by Zeynep Fırat copyright Paul Pfeiffer. Courtesy Paula Cooper Gallery, New York. Within Protocinema's Once Upon A Time Inconceivable, 2021

Hera Büyüktaşçıyan, Skin Deep (research image), 2021. Sculpture, carpet and wood. Installation shot by Zeynep Fırat copyright Hera Büyüktaşçıyan and Protocinema. Courtesy the artist and Green Art Gallery, Dubai. Within Protocinema's Once Upon A Time Inconceivable, 2021

Gülşah Mursaloğlu, Merging Fields, Splitting Ends, 2021, Installation. Potato-based bioplastic, thread, steel, water, heating plates. Dimensions variable. Installation shot by Zeynep Fırat © Gülşah Mursaloğlu and Protocinema. Within Protocinema's Once Upon A Time Inconceivable, 2021

Banu Cennetoğlu, IKNOWVERYWELLBUTNEVERTHELESS, 2015-ongoing. Installation. 24 helium inflated mylar balloons. Installation shot by Zeynep Fırat © Banu Cennetoğlu. Courtesy the artist and Rodeo Gallery, London & Piraeus. Within Protocinema's Once Upon A Time Inconceivable, 2021

Ceal Floyer, Overgrowth, 2004, Medium format slide and medium format slide projector, Dimensions variable. Installation shot by Zeynep Fırat. © Ceal Floyer. Courtesy Lisson Gallery; Esther Schipper Gallery, Berlin, 303 Gallery, New York; Galleria Massimo Minini, Berscia. Within Protocinema's Once Upon A Time Inconceivable, 2021

Ceal Floyer, Viewer, 2011/2021, Sculpture. Door viewer, glass, variable dimensions. Installation shot by Zeynep Fırat. © Ceal Floyer. Courtesy Lisson Gallery; Esther Schipper Gallery, Berlin; 303 Gallery, New York; Galleria Massimo Minini, Berscia. Within Protocinema's Once Upon A Time Inconceivable, 2021

Zeyno Pekünlü, Without a Camera, 2021. Video, 71', color:sound. Installation shot by Zeynep Fırat. © Zeyno Pekünlü. Courtesy the artist and Sanatorium Gallery, Istanbul. Within Protocinema's Once Upon A Time Inconceivable, 2021

Abbas Akhavan, spring, 2021, sculpture. Frost, copper piping, freezing mechanism, cinder blocks, found water fountain, lights and pump. Part 1: 3.75 meters diameter x 45 cm, part 2: 160 x 160 x 80 cm freezing mechanism. Installation shot by Zeynep Fırat © Abbas Akhavan and Protocinema. Courtesy the artist, Catriona Jeffries, Vancouver and The Third Line, Dubai. Within Protocinema's Once Upon A Time Inconceivable, 2021

Mario García Torres, In Fight Club...1999, from Spoiler series. N.d. 9 Silkscreen ink and acrylic paint on linen, 40 x 30 cm. Installation shot by Zeynep Fırat © Mario García Torres. Courtesy the Jan Mot, Brussels, Galleria Franco Noero, Torino, Taka Ishii Gallery, Tokyo. Within Protocinema's Once Upon A Time Inconceivable, 2021
on the occasion of our 10 year milestone
Abbas Akhavan, Hera Büyüktaşçıyan, Banu Cennetoğlu, Ceal Floyer, Gülşah Mursaloğlu, Zeyno Pekünlü, Paul Pfeiffer, Amie Siegel, Mario García Torres
Opening Date: 4 September, 2021 - between 18:00-20:00
Dates: September 4 - October 10, 2021
Visiting hours: Fridays - Sundays, 15:00 - 20:00
Location Yeni Kundura Building, Beykoz Kundura
Yalıköy, Süreyya İlmen Cd. No:1, 34820 Beykoz, Istanbul
Saturday, September 25: Culture Strike: Laura Raicovich in conversation with Mari Spirito
Click here for more information.
All of our visitors should register here with your HES code: https://forms.gle/oppx64UDJjKFqFBu9
Click here to find our how to get to Beykoz Kundura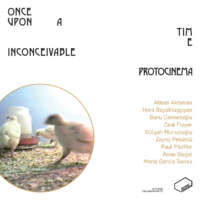 PROTOZINE: Once Upon a Time Inconceivable
View online & download PDF
Protocinema is happy to announce Once Upon a Time Inconceivable, a group exhibition on the occasion of our ten year milestone, cross-examining the pair of perception and realization; and their impairments in relation to time and space, bringing together works by Abbas Akhavan, Hera Büyüktaşçıyan, Banu Cennetoğlu, Ceal Floyer, Gülşah Mursaloğlu, Zeyno Pekünlü, Paul Pfeiffer, Amie Siegel, and Mario García Torres. The exhibition and public programs will take place at and with the kind collaboration of Beykoz Kundura, a cultural hub formerly a factory site of various mass-manufactures from the Ottoman Era to the present day, situated on the north-east coast of the Bosphorus, Istanbul.
Coming at a crucial moment of crisis and loss that urges us to rethink all establishments and reevaluate personal, local and global relationships, Once Upon a Time Inconceivable invites us to reassess curious workings of perception and realization. Through the artworks bending perceived temporalities and conceived spatialities, this exhibition sheds light on the process of realization itself. Focusing on the dynamics of perception and realization matters as it turns our unevenly shared experience of the past into fuel for further changes in understanding that may (or may not) translate into changes in action.
Ceal Floyer's Overgrowth (2004) is a slide projection of a tiny bonsai tree scaled up to the size of a large wall. The tree's dimensions are determined solely by the distance that the projector is from the wall which makes the distance between the wall and projector, rather than the projected image, the subject of the work. Mario García Torres' Spoiler Series (n.d.), posters disclosing the endings of well known movies, come out of a research asserting that knowing the end of a narrative movie actually enhances the experience of the film, suggesting how when not focused on an unknown outcome, we maintain our capacity to read multiple layers of complexities. Without a Camera (2021) by Zeyno Pekünlü sources 325 different videos from an online video-sharing platform shot by people, machines and things, offering a remake of the film classic Man with a Movie Camera (1929) by Dziga Vertov. Pekünlü's video runs parallel to the original editing of Elizaveta Svilova, but she replaces the camera and the cameraman with new recording technologies. These technologies render humans now as appendages of the devices and questions how our perceptions and realizations have been altered via new apparatus.
Time is a more of a concrete element in Gülşah Mursaloğlu's new sculptures, Merging Fields, Splitting Ends (2021), which take heat as an agent that is unidirectional by nature, just like time, as a central component, both as a connector and an irreversible flow between material states. Abbas Akhavan's work is kind of a halt - his new sculpture uses temperature to stop movement, freezing what was once fluid. Constructed of the innards of public fountains, the object, often seen in the centre of public spaces, is now like a displaced chandelier, or a misguided satellite, time standing-still.
Hera Büyüktaşcıyan's new sculpture will resonate with the nature of Beykoz Kundura, once a factory mass producing paper and leather and now a site used for film sets. Taking the building's ongoing relation to skin as a façade (or façade as a skin), Büyüktaşçıyan invests in the morphology of surfaces that bears traces of time through material poetics in reference to the marbles of Hagia Sophia . She activates the space by deconstructing our perception of the interior and exterior, and investigates how our physical positions are being shaped within it. Paul Pfeiffer's Orpheus Descending (2001), a multi-channel video, displays the ten-week life cycle of a flock of chickens as they hatch from their eggs and develop from day-old chicks to full-grown adults. While the original live version of the video, installed in the World Trade Center three months before its destruction, displayed the chickens in real time, this new version, shown in Istanbul 20 years after its first realization, brings all that has been lost along the way in changing times and spaces.
Banu Cennetoğlu's installation ''IKNOWVERYWELLBUTNEVERTHELESS'' (2015-ongoing) embodies the title in Turkish with 24 black letter-shaped mylar balloons. Quoting from the French psychoanalyst and ethnologist Octave Mannoni who studied the relationship between psychology and colonialism, this text refers to a belief in something that is at odds with one's own experience, in a word: denial. Cennetoğlu, with helium-filled balloons fading out over time whilst deforming the expression, questions the entanglement between the knowledge and the participation. Amie Siegel's video, Quarry (2015) traces the source of marble from the largest underground quarry in the world in Vermont to its high-end destination in Manhattan real estate developments. The film traces increasingly elaborated layers and strategies of recreation and simulation. Siegel's meticulous rendering of extraction of natural resources exposes a complex economy of production and speculation.
Once Upon a Time Inconceivable will be accompanied by ProtoZine edition with texts by Lara Fresko Madra, Alper Turan and Mari Spirito. Previously Inconceivable, the exhibition will be followed by a book project with additional commissioned texts by Laura Raicovich and Mari Spirito (conversation with artists), to be launched in early 2022, and then distributed internationally.
Protocinema is a cross-cultural, mission-driven art organization, commissioning and presenting site-aware art in Istanbul, New York, and elsewhere. We produce context-specific projects of the highest artistic quality that are accessible to everyone. Protocinema evokes empathy towards an understanding of difference, across regions through exhibitions, educational public programming, and mentorship. Protocinema maintains long-term relationships with artists nurturing sustained growth. Founded by Mari Spirito in 2011, Protocinema is a registered 501(c)3, free of 'brick and mortar', sites vary to respond both to global concerns and changing conditions on the ground. protocinema.org
About Beykoz Kundura: As one of the important historical and cultural values of Turkey with its history dating back more than two hundred years, Beykoz Kundura operates as a professional venue rental entity and is a meeting point where creative ideas are produced in harmony with today's dynamics at a glorious spot across the Bosporus, since 2005. Kundura Cinema in 2018 marked the first stage in the redevelopment of Kundura as a multi-purpose arts venue offers an alternative perspective in respect of films. In 2019, the Boiler Room project also expanded to include Kundura Stage, aiming to be one of the leading venues of Istanbul, showcasing international theatre, music and dance events. beykozkundura.com
Press Inquiries:
Protocinema: Alper Turan, alper@protocinema.org, +49 17670518587, +90 5068706808; Mari Spirito, mari@protocinema.org +1917 660 7332 Beykoz Kundura: Uğur Yüksel, ugur@thisiszu.com
Supporters
Protocinema is supported by FfAI - The Foundation for Arts Initiatives; The Cowles Charitable Trust, New Jersey; 601 Artspace, New York, The Artisan Hotel, İstanbul; Ek Biç Ye İç, İstanbul; Akademi Çevre, İstanbul; Embassy of Mexico in Turkey for Mario García Torres'; EVA International - Ireland's Biennial of Contemporary Art and SAHA, İstanbul for Zeyno Pekünlü
With the Kind Collaboration of Beykoz Kundura

How to get to Beykoz Kundura:
BY ROAD
You can take public buses to Beykoz Kundura. The bus lines stopping at the "Kundura Fabrikası" are:
15T Tokatköy-Üsküdar, 15 Beykoz-Üsküdar,
15F Beykoz-Kadıköy, 15BK Beykoz-Kadıköy,
15D Anadolu Feneri-Kavacık, 121A Beykoz-Mecidiyeköy
You can take the Beykoz "dolmush" from Kadıköy and Üsküdar, get off at the "Kundura Fabrikası" stop and walk from there to reach Beykoz Kundura.
BY SEA
Yeniköy Boats: You can use the boats departing from Yeniköy for Beykoz pier every 20 minutes. The pier is about 15 minutes' walking distance to Beykoz Kundura.
İstinye-Çubuklu Ferry Line: Regular trips all day long.
Last departure at 21:30.
The Bosphorus Line: You can get on the Bosphorus Line departing from Eminönü, Beşiktaş and Üsküdar for Beykoz. Departure hours from the European side are;
From Beşiktaş to Beykoz Pier; at 18.10, 18.50, 18.55
From Eminönü to Beykoz Pier: at 17.55, 18.35, 18.40
From Kabataş to Beykoz Pier; at 18.25
Water Taxi: Beykoz Kundura has a private pier. You may reach the venue by sea taxi.

PRESS
---