A FEW IN MANY PLACES IN NEW YORK
Lila Nazemian, Vartan Avakian, Kristine Khouri, Yasmine Eid-Sabbagh
May 8 - August 8, 2021
Seoul, Bangkok, Istanbul, New York, Santurce, Guatemala City
Co-curated by Mari Spirito and Abhijan Toto, A Few In Many Places includes collaborators:
Gahee Park, Gim Ikhyun, Miji Lee, Welcome to Ogasawara (Hyun Woomin, Min Guhong Manufacturing, Park Daham, Yuri An, Yun Choi), Komtouch Dew Napattaloong, Thanart Rasanon, Alper Turan, Zeynep Kayan, Kathryn Hamilton, Deniz Tortum, Lila Nazemian, Vartan Avakian, Kristine Khouri, Yasmine Eid-Sabbagh, Embajada, Taller Comunidad La Goyco, Jorge González Santos, Esvin Alarcón Lam, Antonio Pichillá, Camilla Juárez.
PROTOZINE: A Few in Many Places 2021 

View online & download PDF
A Few In Many Places in New York:
Lila Nazemian, Vartan Avakian, Kristine Khouri, Yasmine Eid-Sabbagh
Dates: May 8 - August 8, 2021
Visit: Saturdays and Sundays from 11 am to 5 pm
Location: Colonel's House, 410A, Governor's Island, New York
Visitor Information
Protocinema presents A Few In Many Places, a multi-city group exhibition that addresses on-going collapses and cycles of violence, through various forms of collectivity. Taking place in Seoul, Bangkok, Istanbul, New York, Santurce, and Guatemala City, all of these interventions use sustainable exhibition-making models of reducing exploitation (of natural resources, labor, and knowledge) and consumption (no shipping or flying). This year, collaborators present works on continuing inequalities happening in both physical and digital realms. Developed by Protocinema in 2020, A Few In Many Places maintains a foot in physical real-life, small, and safe get-togethers in each community while utilizing far-reaching digital support structures, to be both hyper-local and globally interconnected. Each chapter is site-responsive while speaking across the regions and produced in a format that allows for forms of engagement under various conditions of lockdowns or other contingent situations.
A Few In Many Places in Bangkok, Istanbul, and New York will focus on the image in its myriad forms as a site of collective investigation and re-learning as well as a tool to unhinge the cycles of violence. In New York Lila Nazemian in collaboration with Vartan Avakian, Yasmine Eid-Sabbagh, and Kristine Khouri, members of the Arab Image Foundation (AIF), explore histories of (forced) migration, memory, and material culture through their intervention situated in a house on Colonels Row, Governors Island. This unfolding exhibition is made with the participants of the Practitioner-in-Residence workshop (entitled: Unravelling Collections and Practices: Rights Materialities and Photographic Agency) at NYU's Hagop Kevorkian Center for Near Eastern Studies. It is made up of photography, research texts, recipes and film that comes out of conversations and proposals to consider repatriation, rightful ownership, custodianship and control over culture and data.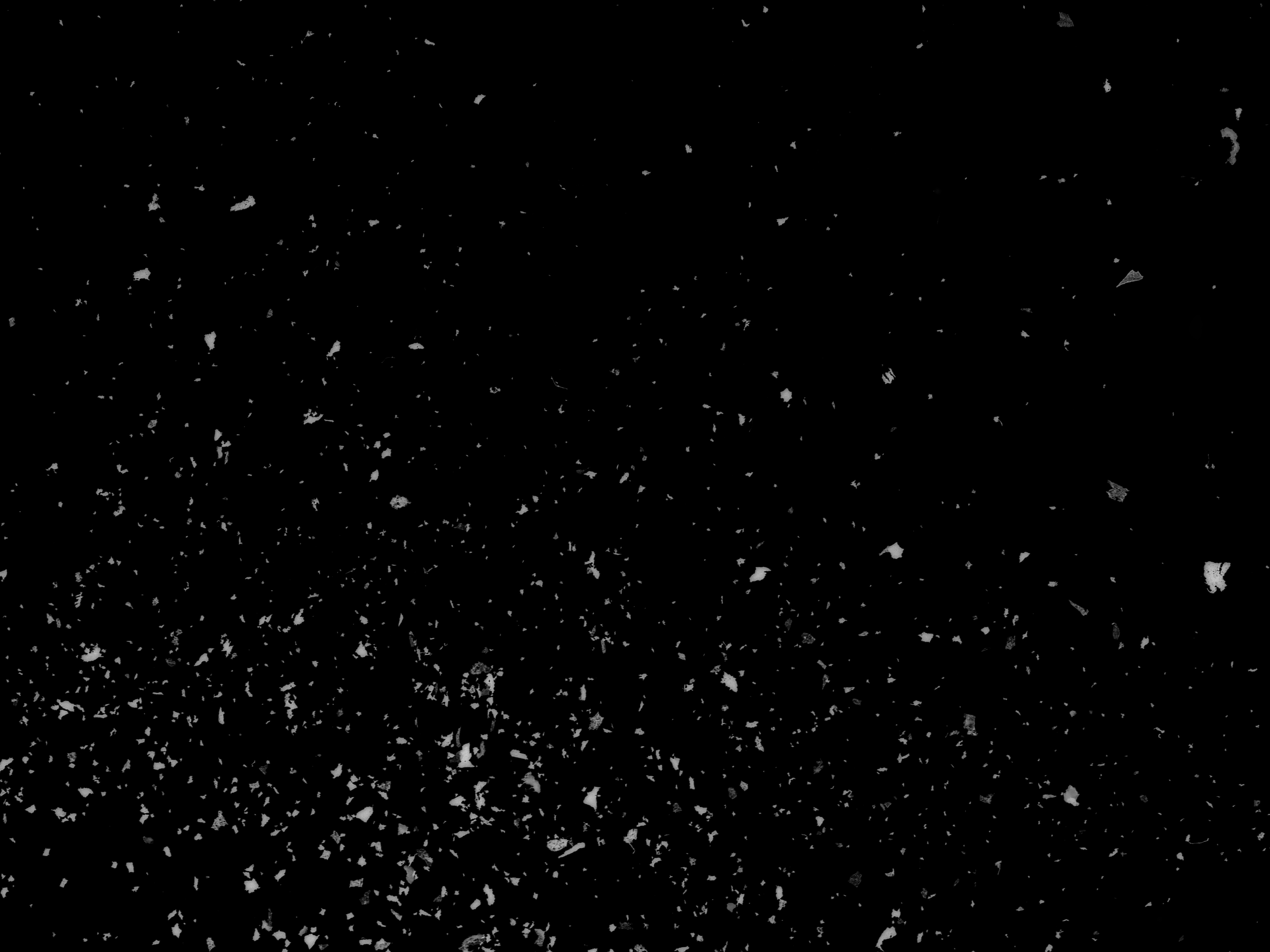 Vartan Avakian, Suspended Silver: Dispersion 024, 2015

Vartan Avakian's installation includes Suspended Silver (2015), a photographic series, which is made from silver particles collected from film debris found in the dust of the photo archive. Silver forms the light-sensitive crystals on which images are formed in film stock. By printing each silver particle—the material equivalent, one might say, of a pixel—the composition of information that produced the original photographs are reshaped into opaque artifacts that bear the physical traces of the original photographs just as it renders them remote and cryptic. These images synthesize the archaeological and narrative strands of information, ossified in biological debris, into artifacts that become, in their turn, material ciphers waiting to be decoded and recombined.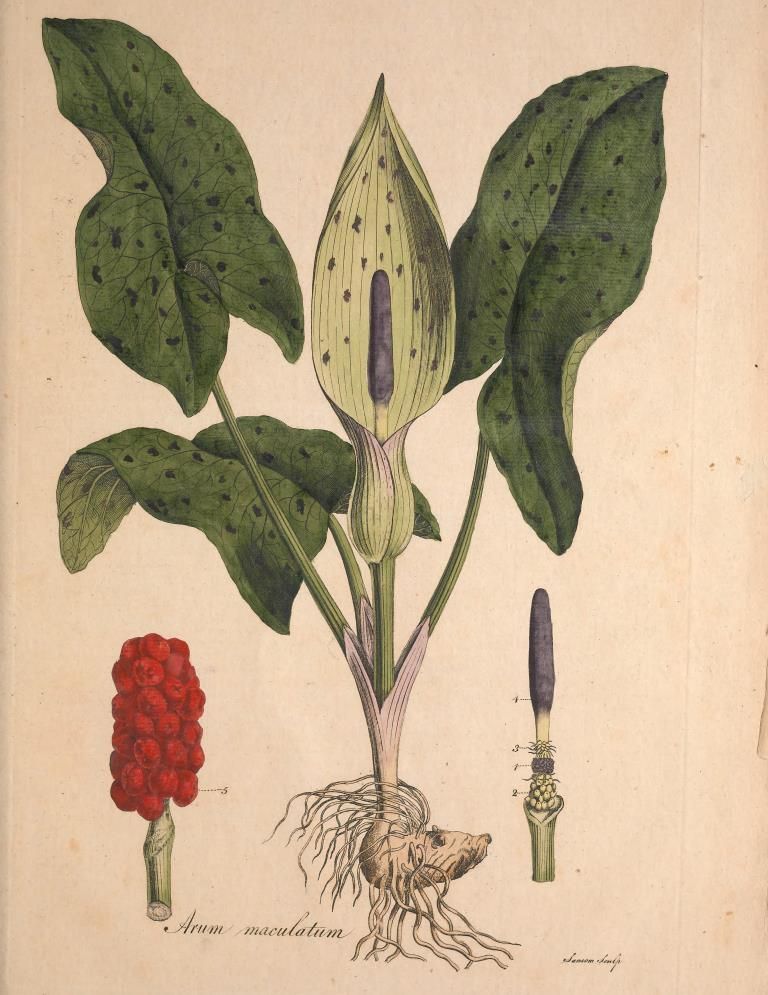 An Arum Maculatum illustration, research image for Vartan Avakian's Poison, 2021.
Among the workshop participants exhibiting in the show is Jesús C. Muñoz, who's installation Strawberry Flesh (2021), features an excerpt from the film Geographies by Chaghig Arzoumanian, a photograph from the Bakalian Collection at the Arab Image Foundation, photographs from his personal family archive, an original poetic-expository text, and a living strawberry plant. Strawberry Flesh incarnates the threads of histories that could only loosely sustain associations in the realms of discourse and abstracted cognition. What turns a photograph, a postcard, a memory or an experience into an "image"? How are images shared? Can a first-generation Mexican-American immigrant in the 21st century inhabit the same psychic and material space as a displaced Armenian refugee in Bourj Hammoud in the mid-20th century? Time and space, identity and experience, the mind, the body, the spirit, fiction and reality are all dislocated in this ritual of witnessing. The thread incarnated is the flesh, the images sensed by the flesh are rendered sensible by the fleshing of artistic production. The images ignited, the threads that glow, the experience of vitality (of life in totality) are all components of a poetics in the flesh.

This exhibition will unfold over these months to include artworks by the workshop participants, and a new commission by Avakian titled Poison (2021), in June. Poison documents oral histories to preserve cultural lineage. His great grandmother's culinary ritual from the region of Amanos was to cook a poisonous plant transforming it into an edible stew. This plant, the Arum, has many common names such as Snakeshead, Snake Poison, Adam and Eve, and Cuckoo-pint. There exists a parallel story in the Kings chapter of the Old Testament, in which, during a devastating famine, Elisha feeds the people by ordering a stew to be made with this toxic plant, referred to as "wild vine." This growing collection of stew recipes, plant images, botanical illustrations, and homeopathic plant derivatives along with oral histories, come from family members and descendants from Amanos. Avakian presents the links between myths, biblical tales and collective consciousness of survival. By putting these links together, Poison emphasizes the need of witness participants essential to the preservation process itself.
A Few In Many Places is accompanied by a new edition of ProtoZine, with commissioned texts from a range of different perspectives by the curatorial group Collective Rewilding (Sara Garzón, Ameli Klein, and Sabina Oroshi), philosopher Erik Bordeleau and a collaborative essay connecting two city interventions (Santurce and Istanbul) and five collaborators Kathryn Hamilton / Deniz Tortum, Zeynep Kayan, Jorge González, Mari Spirito.
Lila Nazemian is an independent curator whose recent curatorial projects include "Now That We Have Established a Common Ground" (forthcoming 2021) at Assembly Room, New York; "I open my eyes and see myself under a tree laden with fruit that I cannot name" organized at New York's Center for Book Arts in January 2020; and the "On Echoes of Invisible Hearts" series, featuring contemporary artists from Yemen (2018-2019.) She is a QAYYEM 2019 Curatorial Fellow, was among the inaugural participants of the 2018-2019 Interdisciplinary Art and Theory Program in New York, and participated in ICI (Independent Curators International) 2018 Curatorial Intensive in Bangkok.
Vartan Avakian is an artist working with video, photography and sculpture. Avakian's work has been shown at Marfa Projects, Beirut; MuCEM, Marseille; Sursock Museum, Beirut; and Apexart, New York. Avakian is a recipient of the Abraaj Group Art Prize and is represented by Kalfayan Galleries, Athens-Thessaloniki, and Marfa Projects, Beirut. https://www.vartanavakian.com/
Yasmine Eid-Sabbagh uses her background in photography to combine research, conversation, image, and meta-archival practices to reflect on notions of collectivity and power. One of her long-term projects explores the impossibilities of representation through a potential digital archive assembled in collaboration with inhabitants of Burj al-Shamali, a Palestinian refugee camp near Tyr, Lebanon. She was a 2018/2019 fellow at BAK, Utrecht, the recipient of the 8th Vevey International Photography Award (together with Rozenn Quéré, 2011) and the Arles Discovery Award (2013).
Kristine Khouri is a researcher and writer whose interests focus on the history of arts circulation and infrastructure in the Middle East and North Africa as well as archival practice and knowledge dissemination. Together with Rasha Salti, she has led the Past Disquiet research project, and co-curated the project's archival and documentary exhibitions from 2015-2018 and with Salti co-edited Past Disquiet: Artists, International Solidarity and Museums in Exile published by the Museum of Modern Art, Warsaw, 2018She has advised on archival projects and digitization strategy for organizations in the Arab world. Her most recent texts were contributions to Labour of Love (Palestinian Museum, 2018), Hamed Abdalla, Arabécédaire (Zamân Books, 2018), Seta Manoukian (Saradar Collection/Kaph Books, 2019).
For other city interventions, Seoul, Bangkok, Istanbul, Santurce, Guatemala City
Protocinema is a cross-cultural, mission-driven art organization, commissioning and presenting site-aware art in Istanbul, New York, and elsewhere. We produce context-specific projects of the highest artistic quality that are accessible to everyone. Protocinema evokes empathy towards an understanding of difference, across regions through exhibitions, educational public programming, and mentorship. Protocinema maintains long-term relationships with artists nurturing sustained growth. Founded by Mari Spirito in 2011, Protocinema is a registered 501(c)3, free of 'brick and mortar', sites vary to respond both to global concerns and changing conditions on the ground. protocinema.org
Supporters
Protocinema is supported by FfAI - The Foundation for Arts Initiatives; The Cowles Charitable Trust, New Jersey; 601 Artspace, New York; American Chai Trust, New York; Hagop Kevorkian Center, NYU, New York, Goethe Institut, Bangkok; Art Council Korea; Gallery VER, Bangkok; Estrellita Brodsky
Sua-ty (Canción de Sol) is made possible by Para La Naturaleza, La Reserva Guatoc, Estrellita B. Brodsky, Yola Colon, Michy Marxuach, Ernesto Pujol, Ismael Colón, Enrique Bayoán Ríos Escribano, and friends of the artist and Embajada.

Partners
PRESS
---
On history and archives: Protocinema in New York
by Matt Hanson
August 2, 2021